"Content is the most critical digital asset for every organization, embodying its knowledge and processes." This quote is from Microsoft, but it might come from any large enterprise. Content is everywhere; it starts with marketing and shouldn't stop there.
Based on the latest statistics, most successful marketers allocate 40 percent of their budgets to content, and 38 percent even plan to increase their content budgets this year. Content is proving to be a powerful tool for marketers, but what about the other departments within those companies? What about human resources, internal communications, customer service, or account management?
Content shouldn't be limited to marketing departments; every part of an organization can benefit from it. From large firms to small and medium enterprises, content is, in fact, the "atomic particle of company strategy"; it's the article that helps sales secure a client meeting, the personalized deck from account managers that keeps customers up-to-speed, the document or the social media conversation from customer service that solve clients' common issues, the message from internal communications that announces quarterly financial results or a new acquisition. Think about all the departments within an organization and you will see how content plays a major role and, just like in marketing, comes in a variety of formats: articles, videos, interviews, and podcasts, just to name a few.
Despite content being vital to every department, companies rarely have a content marketing strategy that encompasses every department. Unfortunately, this often leads to content that diverges from the company's voice, brand, or vision. And if the content is deployed without a distribution strategy, it can ultimately end up being a waste of time and money.
So, how to avoid those issues? The last thing we, as marketers, want to do is push individual departments to start creating more content. The marketing division needs to integrate each department into the overall content marketing strategy. Each department, with the marketing team, needs to first define its audience and personas, and document a content marketing strategy complete with goals and KPIs. Ideally, the marketing or content team should act as the hub for company's content. It's the center of gravity when it comes to generating high-quality, engaging content and finding creative ways to distribute that content to external and internal audiences.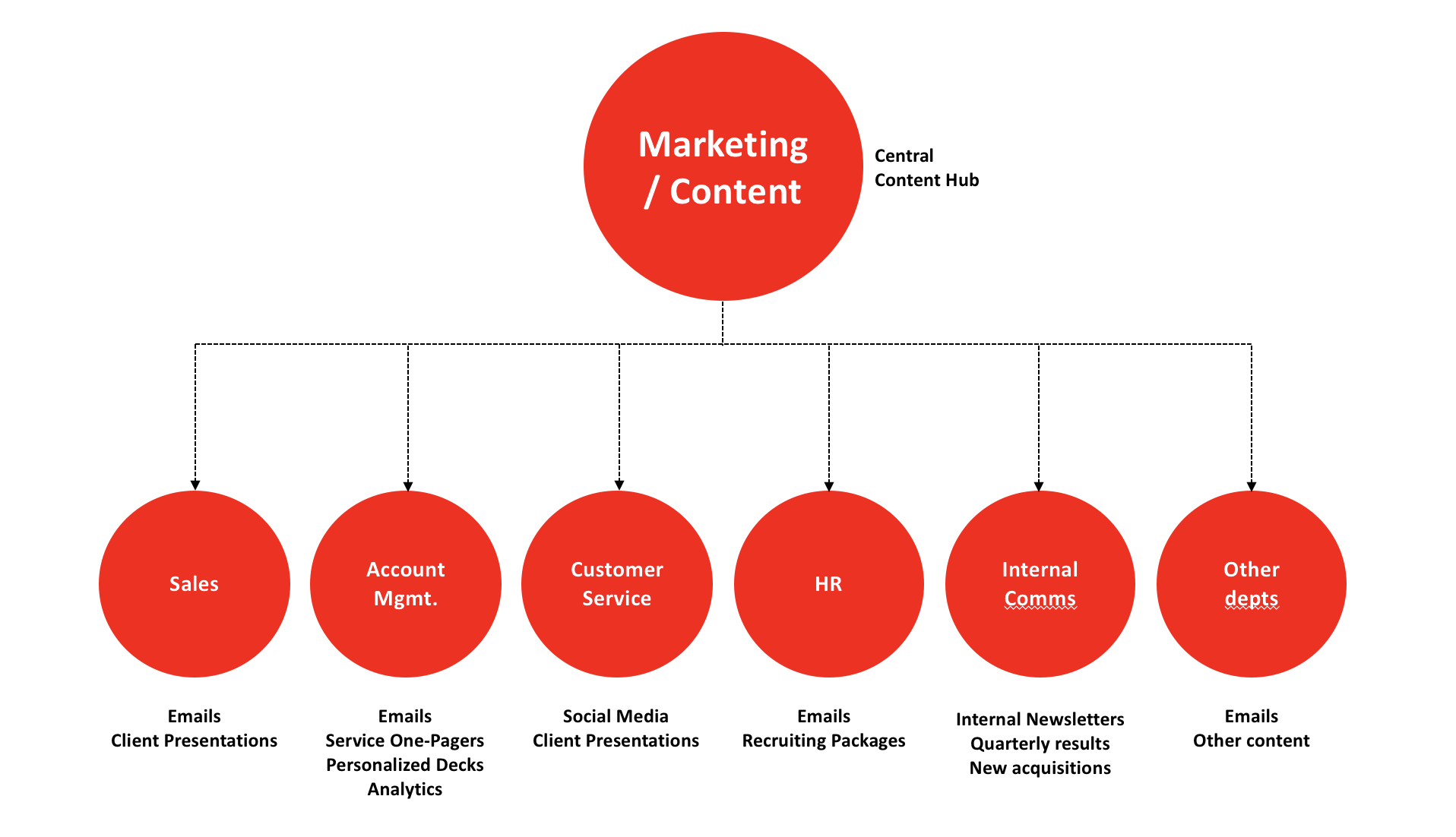 Let's see how each department can benefit from a proper, content-centric model.
Public Relations (PR)
PR has traditionally pushed out information to consumers, through partnerships with editors and media, to build awareness around new products or corporate initiatives. While this approach was effective for many years, it's far less so today. Yet, PR departments and firms continue to use these tactics that are isolated and detached from the company's content marketing program (assuming that one is in place). This means that the PR function doesn't benefit from the synergies that an integrated PR, content, and social media approach could generate.
In addition, PR professionals have historically relied on soft metrics, such as placements and impressions, to measure value. It hasn't connected actions to outcomes that demonstrate how PR activities impact KPIs that are relevant to the business.
The old way of doing PR doesn't make sense, anymore. It's time to integrate PR with the content strategy.
The primary goal is to gain earned media. To do that, PR departments need to start thinking like publishers and the media they're trying to pitch. When PR departments switch from push to pull, they can start generating content that has more depth and value. This can boost media placements and increase the velocity at which stories get picked up.
General Mills made the shift from traditional press releases to an audience-first blog. The company had grown tired of waiting for earned media coverage after making traditional press announcements around new products. In an effort to get information out to consumers in a timely manner, General Mills created its own blog, a Taste of General Mills. The blog focuses on news, new products, and company results. It's a creative and clever deployment that mixes the best of marketing with PR. And it's tremendously effective.
"Our team looked at the blog as a way to keep customers and journalists up to speed on what's going on across General Mills," says Kevin Hunt, General Mills' Corporate Social Media Manager.
The strategy has proven fruitful. For example, one day after General Mills posted an article about the release of its new beer, HefeWheaties, NPR, Fortune, and NBC News picked up the story. As Hunt noted,"In many instances, Taste gives journalists a reason to pick up the phone and call us."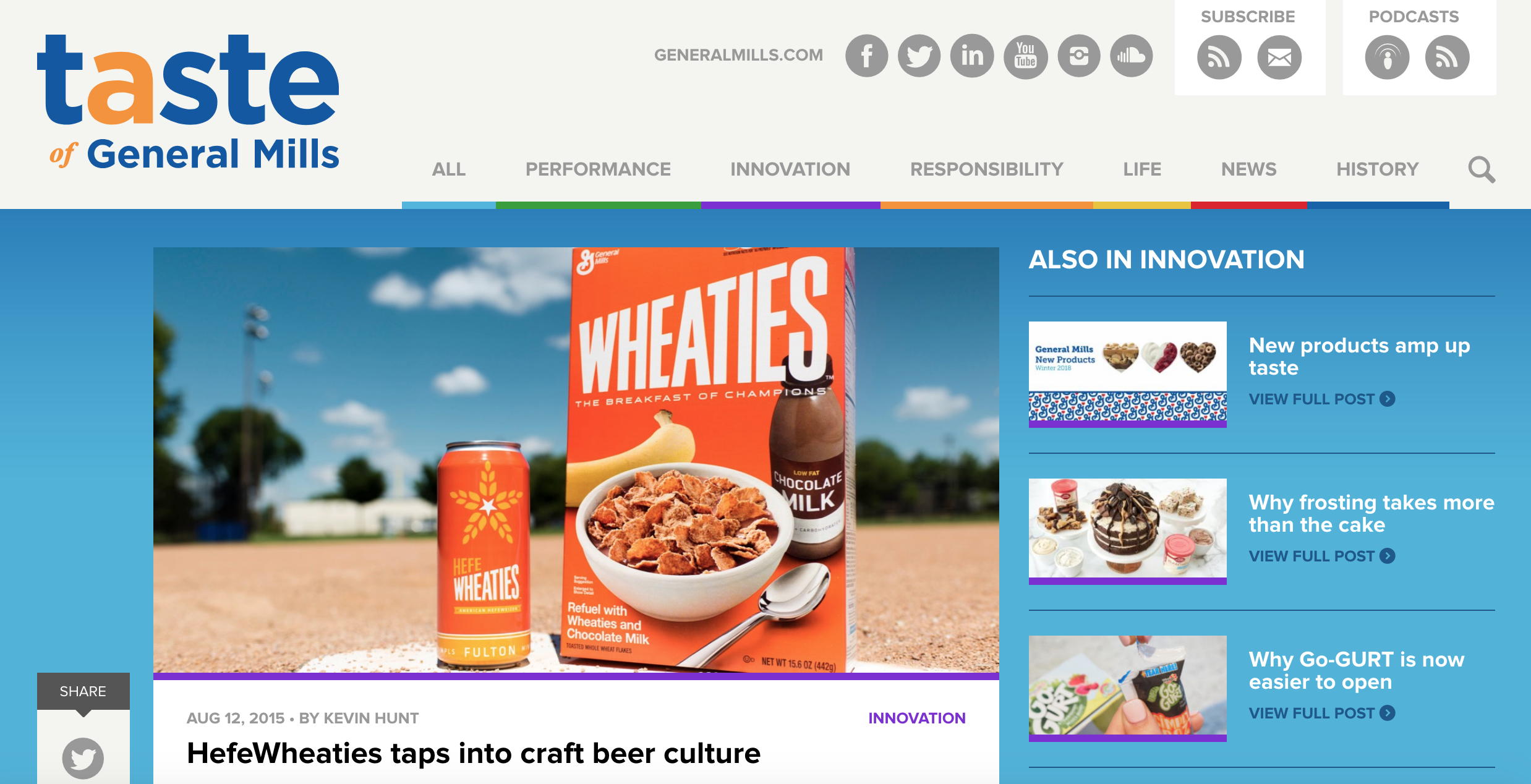 Integrating PR with content will bring numerous other advantages, including unified reporting and the usage of relevant metrics that map toward common goals.
Customer Service 
Companies increasingly use social media to gain a greater understanding of customer desires and to react to customer feedback more efficiently. But today, when anything online can go viral within seconds, we need to go above and beyond "simple" engagement and turn a customer support environment into a proactive listening and solutions-creation space.
Dell went the extra mile in delivering an exceptional customer support experience through content and social media.
Giovanni Tavani is Dell's Social Media Support Global Leader; his team's mission is to facilitate a two-way conversation between Dell and users. Tavani's team has seen success by increasing both the number of conversations and the quality of interactions. They achieved this by creating a global, integrated central team that drives a digital and social environment built on three key pillars, which Tavani recently shared with me:
1. Active Listening. Through Global Listening Centers, Dell's Social Media Support tracks all public, online mentions related to Dell and its products and services to understand what users need, their opinions, and how to better interact with them. When customers need support or advice on a specific topic, Dell moves to the second pillar.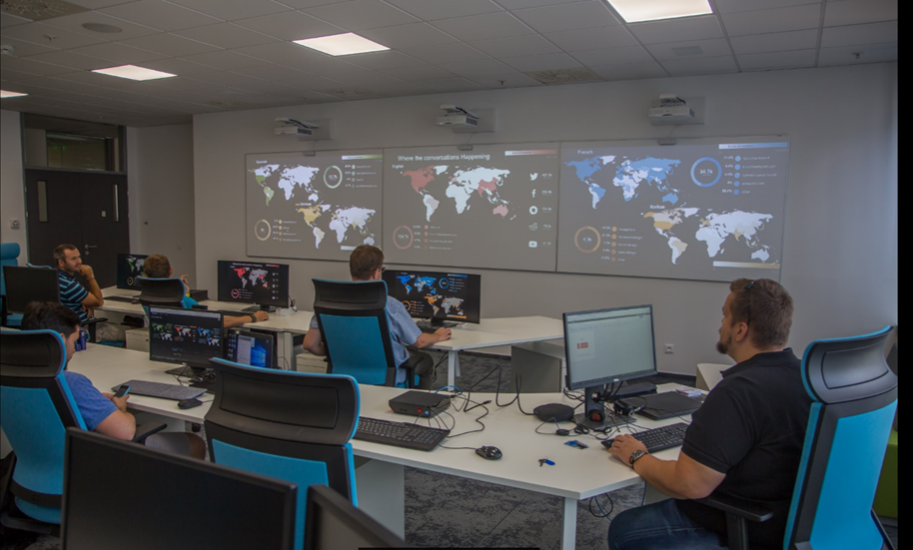 2. Content Creation. Helmed by a centralized leadership team, Dell's Social Media Support took an activity traditionally found in marketing and translated it into a services environment to create meaningful content that helps anticipate customers' needs.
Today, the department's creative team is able to produce visuals for all the company's social media accounts and videos for YouTube channels. A team of millennials was hired for Dell's internal movie production studios to create videos based on users' expectations.
Let's not forget that this is a two-way conversation; Dell is creating content customers have indicated that they want, rather than content built only with the company's own idea about what could be good for customers.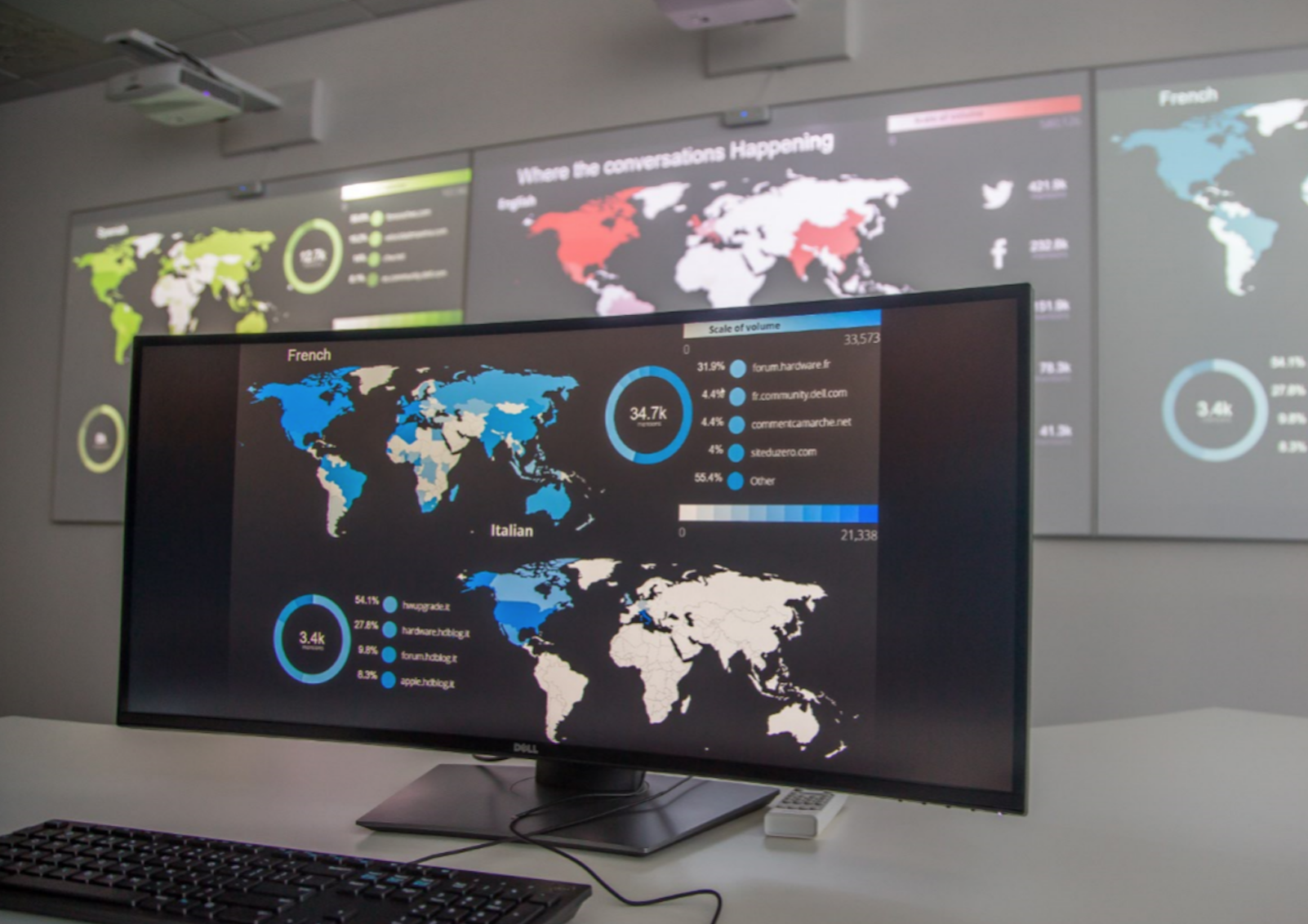 3. Customer Engagement. Dell's daily largest operations see full engagement in all support-related conversations with queries on every social media platform. Dell has just one obsession: outstanding customer experience. Dell's subject matter experts are capable of closing cases on several issues. Customers can use the company social media platform as a one-stop shop for their queries.
Sales
Of all the departments outside of marketing where content can directly impact the bottom line, sales is probably top of the list.
However, according to SiriusDecisions, "at enterprise-level organizations, an average of 65 percent of content is never used by sales reps." With content marketing spend expected to reach $300 billion by 2019, this statistic is worrisome. If enterprise organizations are investing millions in content development, why aren't the people responsible for selling products and services aware of these assets? When you get the departments working together, though, the results are apparent. On average, companies with sales and marketing teams that work closely together see a 32 percent growth year-over-year. Content is clearly an effective way for sales teams to build their authority without overwhelming prospects.
"Your leads are people, not just email addresses," says Ellen Gomes, then Content Marketing Specialist at Marketo. "Personalize your messages by speaking to each lead about his industry, his pain point, his stage in the buying cycle. Personalization may sound like a lot of work, but the right marketing automation platform can make it simple and scalable."
Think about the following scenario: A salesperson emails you after she saw you recently downloaded an e-book her company produced. She sends you a link to a blog post that might be relevant to your needs, as well as a compelling reference about a company similar to yours. You haven't had time to read the e-book yet, but the article seems informative, and the case study attracts your interest, so you agree to talk. You begin your conversation by discussing issues you read about in the content.
If we continue this content-first hypothetical scenario, we see that content can be valuable in all stages of the sales cycle: awareness (the original e-book), evaluation (the blog post and the reference), and the acquisition.
A recent article by Docurated, a marketing and sales enablement platform, confirms the effectiveness of using content to close deals. After surveying 27 CEOs and sales executives, 74 percent concluded that original content is essential to win over prospects. Of those 20 respondents who believed in the sales value of content, half specified references and case studies as their specific choices.
Internal Communications
Whether we work for a large enterprise or a small startup, internal communication is a critical function. Especially for companies running global content marketing programs, it's necessary to establish internal communication channels between teams. This will ensure that everyone knows the latest information about content processes, frameworks, methodologies, and best practices.
As I wrote in a blog post when I was VP of Content Marketing at Schneider Electric, a large energy company with more than 150,000 employees and an internal population of thousands of marketers, my team had to prioritize internal communications.
In fact, our first challenge was to inform and educate regional marketers about the global content marketing program we had just launched. We had to explain why we moved from a traditional, campaign-based methodology to an always-on content marketing model. We also had to share new processes, frameworks, tools, and goals.
The solution: Use content marketing tactics internally. Email newsletters, content hubs, and apps are all great ways to solve internal communications challenges and keep employees aligned. My content team created, in cooperation with internal communications and HR, an internal bi-weekly content marketing newsletter called "The Content Strategist." Having a steady stream of communication – never missing a deadline, even if collecting content from different teams and sources – was a challenge, but helped us convey the same message across all geographies.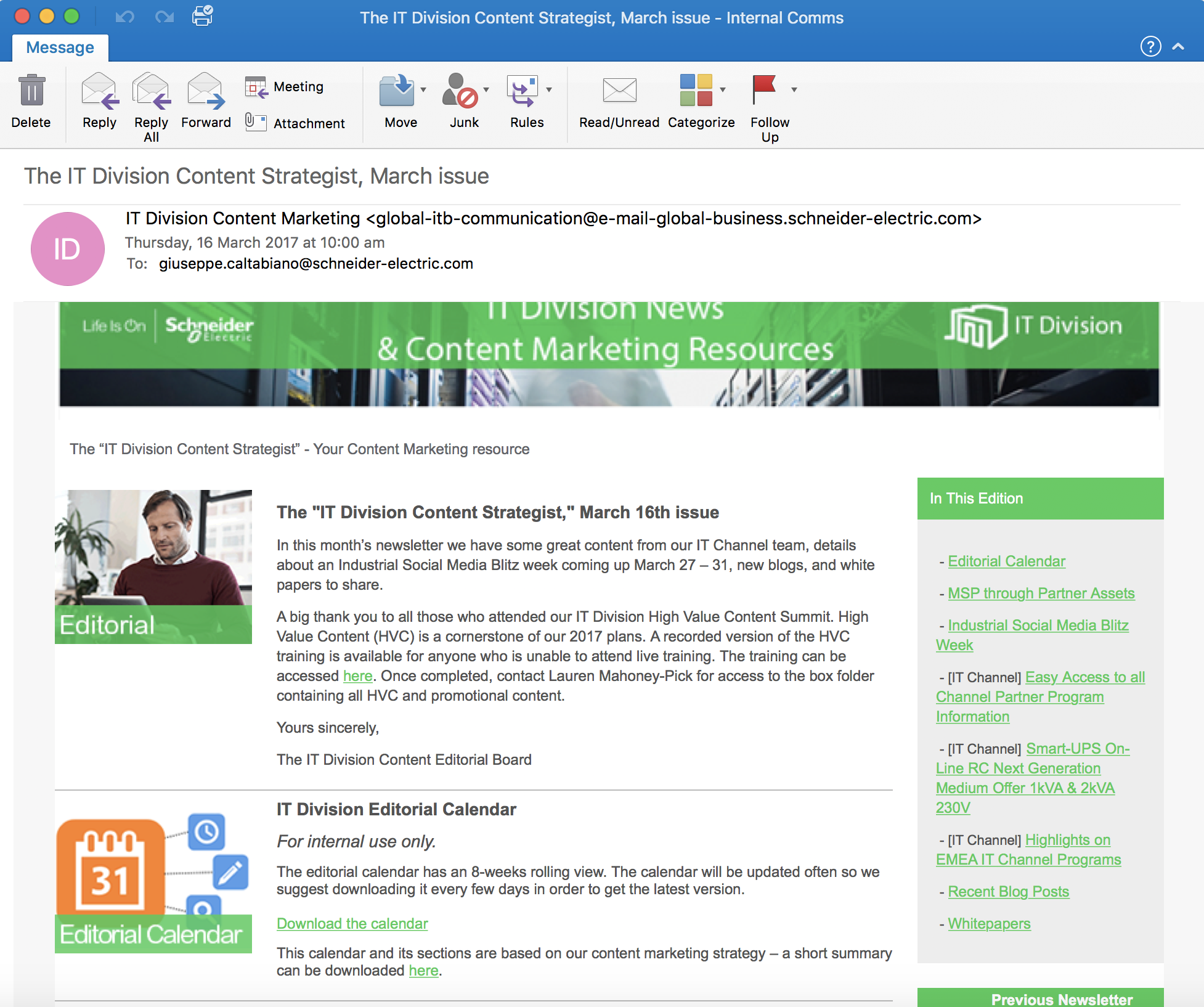 AJ Huisman of YContent, an expert in global content marketing programs, suggests to "establish clear lines of communications and to secure mutual understanding beyond the time zones. Also, a proper internal communication plan will help to get to that point faster."
Our content newsletter became a success just after few months. The initial audience grew five times larger and we had an average open rate of 80 percent. After six months and with thousand readers, Schneider Electric's CMO mentioned our newsletter as an innovative and efficient means of internal communications.
Human Resources (HR)
Content marketing helps you cultivate an audience of potential customers. Can it also attract prospective employees? And can you use content to recruit top talent – and maybe even retain the highest performers you've got? In a word, yes.
HR not only interfaces with every single part of an organization; it also directly engages with the external talent marketplace. HR represents your brand, everywhere.
From employee onboarding, to training and education, to recruiting, HR has many opportunities to take advantage of content marketing. Think, for instance, about using videos to tell company stories and help employees find their place in the company's overall vision. Or what about creating online training libraries, like LinkedIn's Lynda does with short videos that allow people to take courses on demand? Or think about the engagement that might come from featuring your company culture on a blog or social media platforms like Facebook, Instagram, Twitter, and LinkedIn. They can be recruitment channels that generate applicant interest and bring in resumes.
Cisco is a good example of a brand the uses content marketing for HR. Its ongoing #wearecisco campaign features photos and videos posted by Cisco employees who speak about why they love working there. It's a clever way to utilize user-generated content (UGC) to reach potential employees on a more personal level – especially given that employee posts see as much as eight times the engagement of brand posts, as people trust peer statements over brand advertisements.
Your content marketing can showcase the unique perks your company offers. Take LinkedIn's coverage of its Bring in Your Parents Day program. LinkedIn turned an internal initiative into a worldwide program in which any organization can initiate. Not only does this program garner publicity for LinkedIn, in general, it also shows prospective employees a little bit about what it's like to work there. And as competition for employees increases, companies need to actively promote their business as a desirable brand to work for.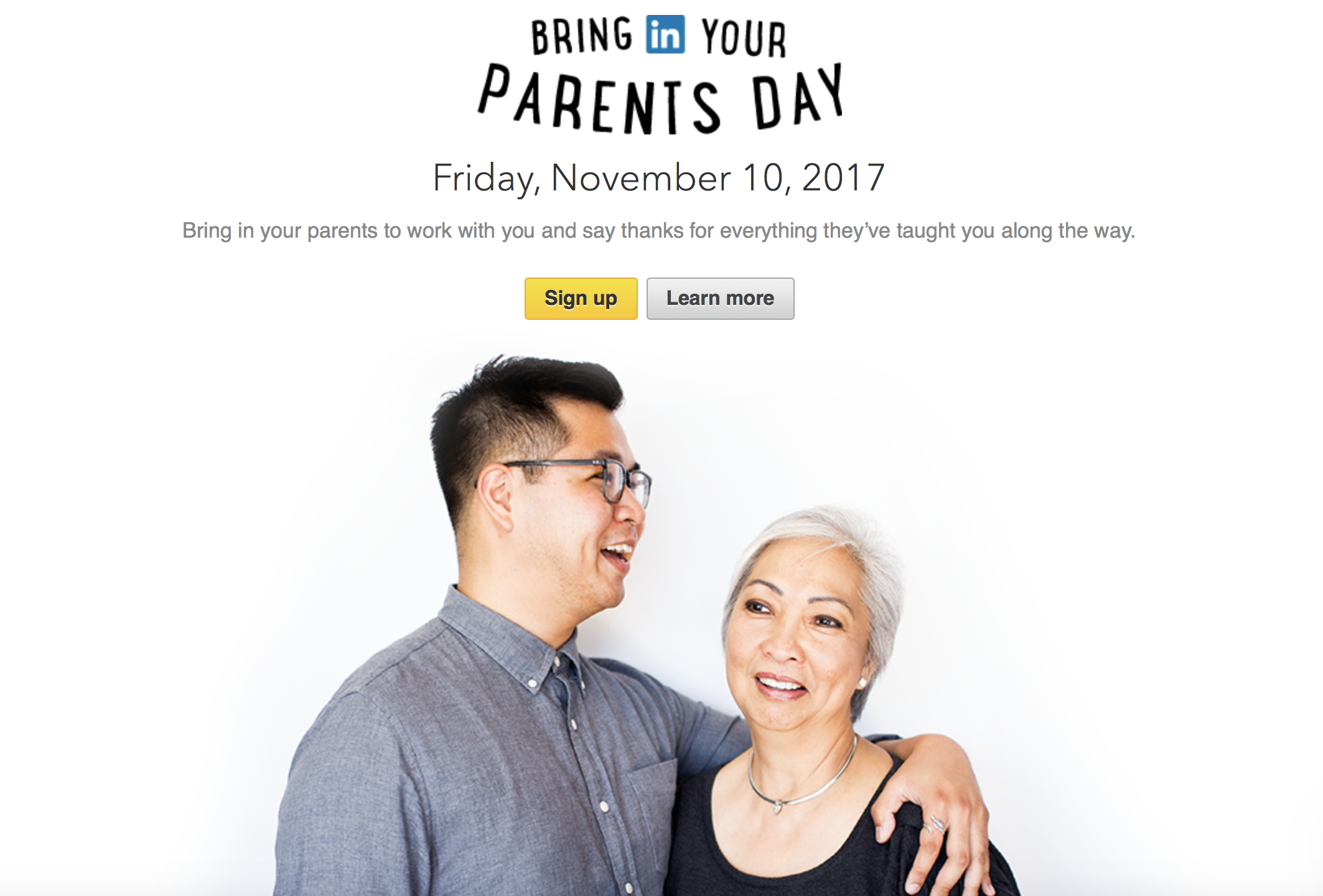 Beyond recruiting, content marketing can educate and inform current employees – potentially assisting in retainment.
Why circulate a boring memo (that's easy for people to ignore) when you can use more attention-getting content formats? A detailed and fun infographic could be a better way to communicate changes in healthcare plans or benefit packages. Short videos could present HR updates in a more engaging way and be shared via email or on a company intranet.
GE, for instance, has used its internal content hub to educate a specific set of employees – union employees – on an upcoming labor contract vote. The campaign's internal hub and app were designed specifically for these employees, with the goal of being a comprehensive information source about the contracts. The site received more than 65,000 hits and nearly 50 percent of users were repeat visitors.
This internal content program was part of a GE's larger initiative to deliver value to employees, which included the development of an internal platform, "My GE," where people could share their own stories. The program was so innovative and effective that GE won PR Week's "2016 Internal Communications Campaign of the Year" award.
Account Management
Account managers have a unique duty that rests somewhere between sales and customer service. In a traditional role, an account manager is assigned once a customer becomes active, and it's their duty to manage that account going forward. This can include managing service-related issues, upsell opportunities, upgrades, and new orders.
Because account managers are assigned to a group of customers, they have the opportunity to use content as a means of building the relationships and nurturing those customers in a variety of ways, including:
Sending targeted, value-driven emails
Sharing helpful content specific to the customer, such as blog posts, whitepapers, videos, and infographics
Creating feedback loops to engage the customer and solicit information that can be fed back to marketing, production, sales, and leadership
Providing additional onboarding resources depending on the customer's use of a product, or red flag metrics that indicate diminishing use or engagement
Conclusions
Virtually every department in your organization can benefit from content marketing.
The best way to start is by working with key stakeholders in each department to define their goals and KPIs. Then, craft a content marketing strategy that's aligned with the overall company content marketing strategy. Each department will, however, have its own model for managing, creating, distributing, and measuring its own content.
Each will also likely have a central resource responsible for producing the final copy, such as an outside agency. Give each department input and let them guide the process for developing their content with outside resources. This way they will share in goals and vision while retaining some measure of autonomy over their department's content. Depending on your content strategy and the departments involved, you'll begin to see soon improved acquisition and a positive change to your performance.